Temperance, hand in hand with violence, create some magnificent scenery. There is a resonance in my heart as we pass through the barrenness of the desert, letting the wind whip through our disheveled hair, standing in the middle of the coolness it brings, gazing in awe at the setting sun. There is a gladness as we walk through the green and red forests of fertile coastal soil, our feet softly padding over roots and branches, uncovering rocks and insects beneath quiet layers of pine needles.

Kah-Nee-Ta, Oregon 2015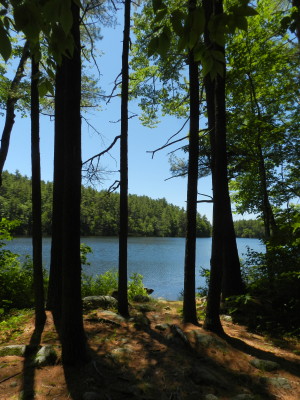 Raymond, Maine 2015
There is a freshness, a vulnerability to the sound of the water as it courses around boulders, swirling in pools, avoiding obstacles easily and freely. There is a tameless-ness to the sky, a cautionless-ness to the way my soul feels in the face of such unreserved vitality.


Crater Lake, Oregon 2015
I am filled with wonder at what lies between here and there, of the extraordinary force it takes to create mountains and valleys, to fill craters with liquid beauty.


Laguna Quilotoa, Ecuador 2012


Crater Lake, Oregon 2015
"Tell me, what is it you plan to do with your one wild and precious life?" -Mary Oliver
These simple words cut through all of the untidy questions in my heart. Like weeds, they grow thick and greedy in the night, unfurling at paces greater than I can tug apart or try to understand. What violent event, what explosion, what chaos of nature brought about so much change? A volcanic interruption of what once was, and now what must be, what must stand firm, shaking in the aftermath of loss.


Crater Lake, Oregon 2015


Mono Lake, California 2015

Standing on the precipice of all this change, my own footing isn't so sure. The audacity of my own choices strikes fear in the shadow places of my heart. My heels are cracked open and raw, I am hurting without knowing exactly why.
"The map would illuminate all of the places I ran to, but not all of the ways I tried to stay." -Cheryl Strayed
The deepest canyons erode the strongest roots, pulling the weight of gravity toward the cavities filled with turbulence, leaning into the rush of the current. Am I unstable just because I am constantly on the move? Am I attempting to traverse what is only meant to be appreciated at a distance for its vastness, for its spaciousness and emptiness? Am I building bridges, connecting pathways to your heart where they do not belong?


Yellowstone National Park, 2007


Milos, Greece 2011


Milos, Greece 2011
Were the stars always aligned in constellations, nighttime images of imagination for our discovery? Have we created fantasies of the sky, tracing outlines in the clouds where there are none? The curves of the earth do not always make sense. Tectonic shifts of molten mass occurring long before our existence shape and create the crevices and valleys now filled with so much life.

Time transforms all wounds, even ones self-inflicted by nature. It is only a scraping away, a building over, a doing away with what must change, what can finally be made whole and renewed. It is an offering, a hollowness to be filled with the purest color of blue.

Ft. Bragg Glass Beach, California 2015
These are the wild places I cherish because they are rugged and dangerous and free. They do not promise answers, but they hold so much beauty.
When I am here, lungs struggling to breathe the thin mountain air, when salty ocean waves crash against bare feet, I can think with contentment of all the untamed and barren places in me- the soft spots and broken spots and healing spots. I can soothe myself by declaring that I am rooted to the movement of the wind, I am tethered by the waves of the sea, I belong to the sky.


Monterrey, California 2012


San Blas, Mexico 2013
I am wild and free, too.
Google+