I have a secret. One I'm really excited and nervous about. A handful of people already know, but I think I'm ready to share it with you, too. So…here it is. Two weeks ago I had a lightbulb go off during a quiet moment of savasana (for those of you who are already lost, it's that meditative moment at the end of yoga class where you get to lie on the floor all sweaty and smelly and exhausted and pretend like you're dead).
It was a really bright lightbulb. One that I haven't been able to ignore. One that had me racing home to fill pages and pages of inspiration with primitive sketches like this one.

The truth is, three years ago I set off on the first day of Spring to try and find…myself. I had no idea how to do this or where this journey would lead. With an oversized backpack and a feeling of extreme relief, I began by  showing up at the doorways of my closest friends.
My first stop was Chicago, where I crashed on my friend Marlise's couch for a week. Next, I headed south to Memphis where I stayed with a friend from high school.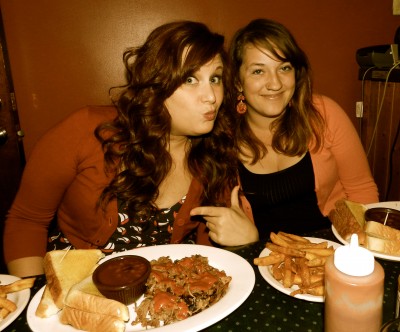 (And we ate some really good barbecue, too. Memphis, 2013).
I was admittedly a bit aimless, so I kept going. After a month or so, I traveled to the beaches of Florida to stay with a couple I met when I was a teenager. Then, I went back to Mexico to re-connect with friends I met when I studied there as a Sophomore in college.
With growing courage, I flew to Paris and celebrated my birthday in the rain next to the Seine.


(Yes, that macaroon is almost as big as my face. Yes I ate three of them in one day. Hey, it was my birthday, who's counting?)
I tried my first Workaway in the French countryside a week later and met an incredible set of international friends whom I still stay in touch with.
I became a little more brave and started showing up at the doorways of more strangers. I couch surfed in Barcelona, volunteered in Ghana, and made new friends in Morocco.
Without realizing it, I became the unlikely (and often unwilling) pupil of community, collaboration, and creativity. By throwing myself at the mercy of others, I discovered not only myself returning my own gaze, but an ever expanding and interconnected safety net of love catching me every time I fell (which was/is often).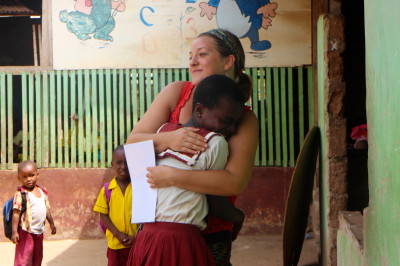 (When the goodbyes get too heavy, we hold each other up.
Ghana, 2014).
Without having an alternative choice, I learned how to depend on others, how to accept help, and how good it can really feel.
I learned how to accept unconditional gifts of love, hospitality, strength, communion, and grace.
I remembered how to dream.
For months now, what I've been dreaming about is how to synthesize all of these lessons, and then share them.


I want so badly for others to experience just a taste of the encouragement, warmth, compassion, and resources I've been offered so selflessly.
(Gathered around a bountiful table after a hard day's work in rural France, 2013).
I've been obsessed with how much I want to introduce my friends from Germany to my friends in the U.S., how much in common my friends from Ghana have with my friends in Nashville, and how we all share the same dream, when it really comes down to it.
We dream of a world where everyone has access to the same resources. We dream of peace. We dream of people taking care of each other.
We dream of forgiveness and reconciliation. We dream of creating a new society where everyone has equal worth, value, and dignity.
(Marching as neighbors for progress and fair food. St. Pete, Florida 2015).
We dream of a place where everyone is treated with respect. Where the least of these thrive because we've learned how to share. A world where there's no more trickle down, only enough. Always enough.


I thought it was up to me to connect all of the dots. To buy a house in the countryside where I could invite all of my friends into this community, into this shared and sacred space where connection, collaboration, and creativity were the norm instead of the exception.
(I want to wrap my arms around these beautiful children every day, just to feel their laughter and joy holding me up and giving me hope. Ghana, 2014).
I thought I had to wait for years until I had enough money, training, and resources to make it happen. That I had to be settled and stable. That I would have to find the right partner or team who could be the "doers" while I kept dreaming.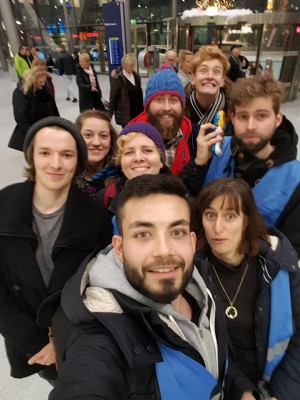 Then it hit me. During corpse pose.
(Spending the night at the airport, greeting, hugging, loving on refugees from around the world, together. Germany, 2015).
YOU are already all of these things. You are creative, collaborative, connected. You have been practicing community and building a network of love, strength, and resilience with every breath you breathe. You're already doing it. Right now.
You've been showing me how the whole way. You are the leaders of your own love circles and at the very center of mine.
All I have to do, all I want to do, is to help you keep doing it. Keep sharing, growing, thriving, building, connecting, advocating, and re-orienting our world around love.
No conditions. Every one is invited. All free passes.

(Quechua women gathered together to support their community in an effort to bring clean water to their village and their children. Ecuador, 2012).
Love Circles is my way of expressing gratitude to the Universe for holding me up every time I fall. It's my tender love offering to everyone who has been a source of support when I've been weak.
It's my way of paying it forward.
So, what is Love Circles exactly? It's my dream of creating an online space where we can strengthen our bonds and widen the net. A space where authentic connection is the new currency. A place where we can gather together to share our creative dreams.

(Because the whole Universe is ours, right? And what amazing things can we create together? Wakarusa, 2011).
It's a place to share our resources, a place where we can learn how to give and receive.
It's a completely new way of social networking built on mutual trust, intentional relationships, and heart-centered exchanges. It's the place to become the leader of your own community, and watch as it grows and grows.

The phrase that keeps returning to me (sometimes waking me up in the middle of the night), is "Unite the light."
I've encountered so many beautiful souls and worked with organizations who feel as if they are the only ones with a flashlight peering into the darkest corner of the world, trying to ease the burden of despair alone.
(Connecting the world, one smile at a time).
What if we could add our light to each other? What would it look and feel like if from every corner of the globe we were connected to one another through core communities of our closest friends?
What if we became a network of light that eventually covered     the whole world?
(Light reflects light. A beautiful sunset in San Blas, Mexico, 2013).                                                                                                                                                                                    

This is my dream.
It's a big one I know, but I have the feeling it's not just mine.

(Some of my favorite students lovin' on each other. Ghana, 2014).
Update: We've officially launched our Kickstarter campaign and are so excited! If this is an idea that excites/intrigues you, here are ways you can get involved!
1) Contribute financially. Our goal is to raise $35,000+ by April 21st. Thank you gifts are available for even $1 contributions and I think you'll really love what else we're doing to show our appreciation 🙂
2) Become a Love Circles Ambassador! I'm looking for small groups of folks who are willing to pilot Love Circles by accepting the invitation into a core group (starting with 5 or so members) who will collaborate, support, and help achieve each other's creative dreams. If interested, email me at thebarefootbeat@gmail.com!
3) Follow Love Circles on Twitter, Instagram, and Facebook! I'll be posting daily updates and sharing a lot of enthusiasm leading up to during and after our Kickstarter. You can look for the hashtag #lovecircles to join the conversation and share the idea with your friends and community!
4) Become a team member. This is currently a one-woman show and I'd love for that to change! If you are a web-developer, graphic designer, or have skills in non-profit management, PR/marketing, or fundraising, I'd love to hear from you. If the Kickstarter campaign is successful, it's my goal to register for non-profit status and hire a creative, collaborative team to continue making this project a reality.
5) Last but not least, keep being who you are. Keep connecting, creating, sharing, dreaming. I am blessed beyond belief to share life with you and to have you walk beside me on this incredible journey. That always has been, and always will be, more than enough.
With love and gratitude,
Mariah
Google+