I'm starting to feel very insecure. My clothes are missing. They're just gone. Not even one smelly sock remains. Suddenly I'm in the front of the room with everyone staring. There are mirrors everywhere and all I can see is my own nakedness reflected back to me by the expressions on their faces. I have nowhere to go, nowhere to hide, nothing to cover my vulnerability. I'm stripped bare and it doesn't feel good.
This week, I learned that one of my plans (okay one of the only two plans I had) fell through. Like, flat on its face, super-manned on the cement, no graceful recovery possible, fell through. The other plan I'd been working on never manifested. Funny thing is, they were both my back-up plans. My back-up plans I could dress up and show off to all of my friends and family who are wondering what exactly I've been up to this year, and what exactly I'm going to do with myself when all of my money runs out (which is soon). 
These plans were going to help me save face. They were a distraction, a cover-up if you will, hiding the fact that I actually have no idea what I'm doing with my life, or what comes next.


The horizon is beautiful, but ambiguous and clouded in mystery.
Cozumel, Mexico 2013
The self-conscious, self-absorbed part of me that actually cares a great deal about others' opinion of me, is floundering. I've spent all of my money galavanting around the world (as my grandmother so charmingly says). I've been drowning out the noise of all of the nay-sayers, insisting I was doing the right thing. Now, in a few months I'll be home, flat broke and without a clue. Not exactly the glorious homecoming I envisioned for myself.

It might be childish, but I really wanted to have something to show for what I've done and where I've been this year. I wanted to be able to come back with something shiny and sparkly in my hands to represent my journey and who I've become. I wanted to prove to myself and others that I did the right thing, and look–here's the proof! 
Empty handed feels a bit awkward and uncomfortable.
Chicago, IL 2011
Right now I have no such tangibility or physical evidence to offer. I hate selfies, and so I don't even have that many photos of myself chilling with the goats in Africa or walking towards the sunset in Spain for people to "oooh" and "ahhhh" over. I don't have any souvenirs, a new lover, or an answer for "What now?"
But I do have a pretty sweet selfie of me and an Alpaca!
Ecuador, 2012
For the last 12 months I've been dealing with the reality of "I don't know" on a somewhat daily basis. It usually looks something like this: "I don't know where I'm sleeping tonight. I don't know where I'll be in two weeks. I don't know when I'm coming home."
I Don't Know and I are tight. We've gotten quite close during this journey, and I've even started resenting him less and less. I Don't Know has become a comfortable, if somewhat unwelcome presence in my life.
I don't know, BUT… 
Except I've been making back-up plans and charts and graphs to get rid of the uneasiness I Don't Know creates. I've been scheming and scribbling escape routes to avoid THE UNKNOWN.
I talk a lot about faith on this blog, because I have a lot of fears. I fear what other people will think of me, I fear insecurity, I fear being lazy, rejected, delusional, wrong. I fear loving someone who doesn't love me back, and I especially fear being trapped (by whom or what, I'm never sure).
When I was in University, I was struggling with a lot of these fears. I was drowning in the murky waters of perfectionism, expectation, and self-loathing. Eventually I sought counseling. During one of our sessions, my therapist asked me an important question, "When everything else in your life fails, what can you count on?" I told her it was my family. They were my one security I knew couldn't let me down.

WRONG.


I love my family more than anything, but they were never meant to be my everything.
Greenville, IL 2013
Within six months my parents were divorcing and my childhood home had been destroyed by an accidental fire. There goes my favorite raggedy sweater, keeping me warm on the coldest of winter nights. 
During the next five years, everything I thought brought me security was stripped away. My health, my closest friendships, and my relationships were just a few of the things taken away. I actually gave up some other securities on my own: my stable job, an income, my adorable city apartment that I loved, with a hammock and garden in the backyard. 
This year of travel has succeeded in stripping away the final layers of protection I'd been clinging to: I've been robbed, homeless, sick, and lost. I've been harassed and cheated, helpless, and scared.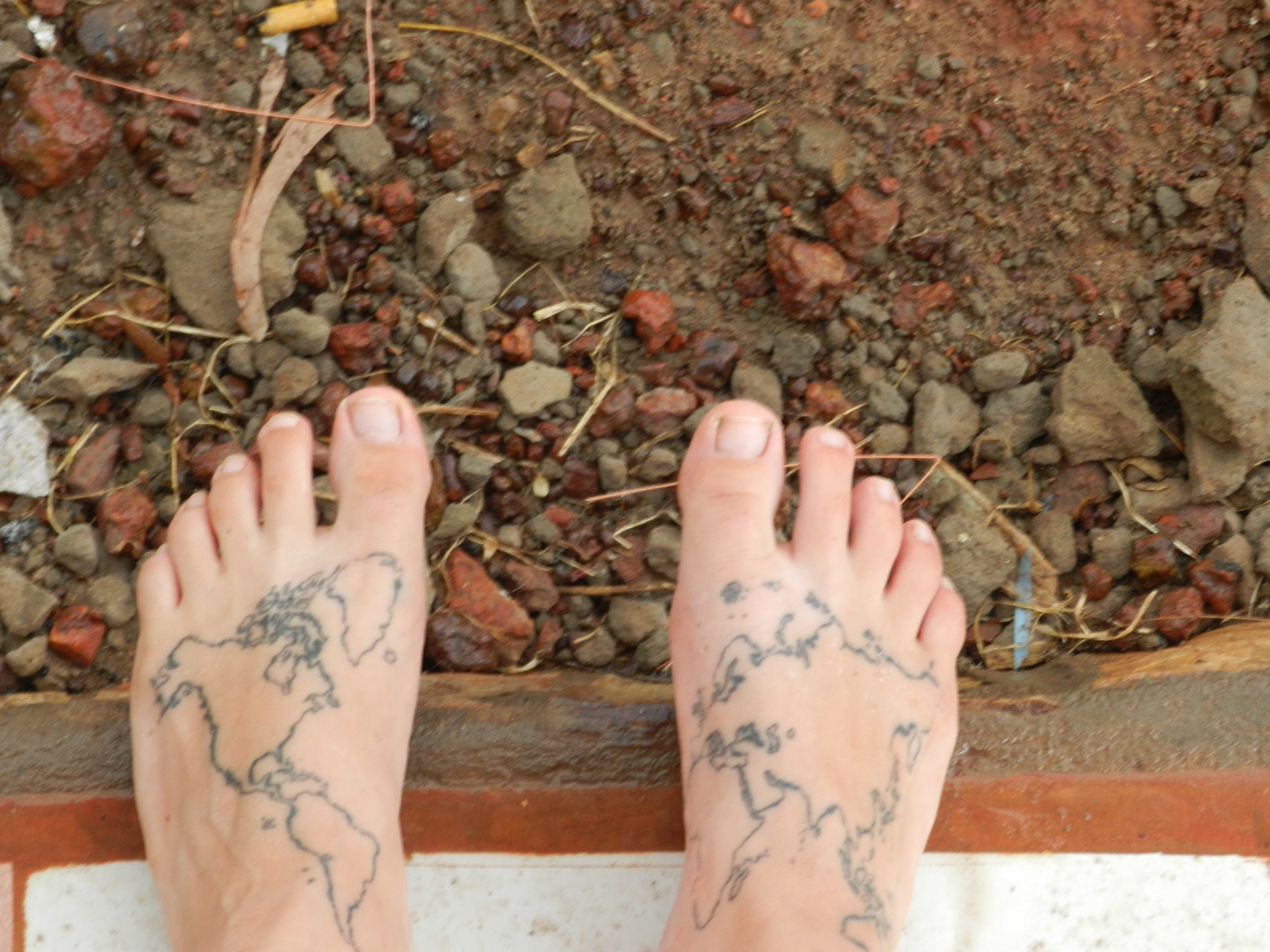 Staring at the dirt and rough edges, learning acceptance.
Ghana, 2014
The truth is, each time something I cherish is taken away, whether its my sense of control or something physical, I resort to my plans. They are my last ditch effort to hang onto my own life. I can problem solve and critically think my way out of any situation and in fact, I thrive on this. Broke and homeless? No problem, let's pull out plan number 2a, section C. Heartbroken and alone? Flip to page number 62 of back-up plan 4b. It goes on, and on….It's a sickness, really.
So, when I got the devastating news this week that my one and only plan for my future had evaporated, I immediately went into crisis "back-up your back-up plan" mode. Then something (my sister) told me to just stop. 
Stop scheming, stop trying to control, manipulate, reverse, and ignore the obstacles. Just be. Just trust. Have faith. Faith. Right. But doesn't that mean I have to find my own way out?
No. Not this time, not any time. 
Back to that naked and vulnerable feeling. Here I am, looking around anxiously at everyone else looking at me anxiously, wondering, "What comes next?" I'm shivering and I've got goose bumps. I'd really like to cover up my nakedness with just about anything right now. I'd like to bluff my way out of this and whip out Emergency Plan #34. I'd like to pretend I have it all together and that I'm as cool as a cucumber. I'm not. I'd like to have this all figured out before I go home. I don't.
Faith. This is the only thing I have left to wear. Only too bad for me, it's invisible. No one else can see it. In fact, sometimes I'm not sure if it's really there. But it is. I can feel its warmth and comfort, even if I still look like I'm wearing my birthday suit to the rest of the crowd.
What happens when I stop looking like everyone else? When I can't blend in?
Ghana, 2013
There's not much of me left. No more favorite sweatshirt that smells like home, no worn and holy socks keeping my toes warm. All of the outer trappings are gone, so I know this is exactly where I need to be, nervously waiting for faith to become physical and tangible. 
Waiting for Jesus to clothe me with things more important than back-up plans and security. Things like love, patience, and joy.
Waiting for the plans HE has for me, plans to give me a future and a hope.

A new dawn is coming and I will place my hope on a firm foundation.
Biarritz, France 2013
Google+