I'm sitting in a church pew in Germany, listening to a children's choir sing German Christmas carols. To my right is a friend I met the very first time I traveled to Europe, almost five years ago. To my left are two friends I volunteered with in Ghana.
The last time we saw each other we were wearing matching, colorful, baggy, "Africa" pants and t-shirts. We were probably walking barefoot in the house we shared, stepping over the dead and dying flying ants covering the tile floor from the downpour of rain the night before. We were most likely sweaty, laughing, and licking our fingers after eating another lunch of fried yams with fishy tomato sauce.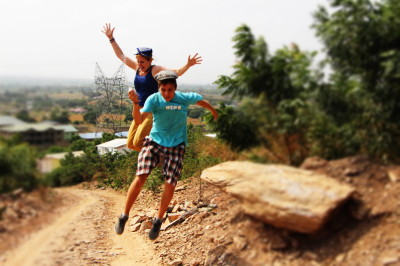 Lena & Matthias hiking together in Teiman, Ghana 2014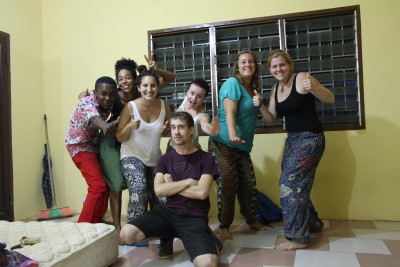 Living together in Ghana, 2014
    Now we are sitting up straight, wearing blue jeans, muted matching coats, and snickering silently, shoulders moving up and down. "They're singing a song now about exploding from eating too many cookies," Matthias translates for me. I almost lose it. I hear him stifle a snort next to me as Lena raises her eyebrows with a smile on her face, watching us try to keep our cool.
It's hard to believe we're here, sipping glühwein in an outdoor market, warming our hands around a steaming mug, talking about things like work and school and the current refugee crisis in Europe. We're on a different continent, in a new season. The context is different, and we are too.
Later, Lena and I go for a walk by ourselves in a park by the river. I have all of the same questions on my heart, the same ones I asked her when we walked dusty roads together into the village in our flip-flops.
"What's next?" "What am I doing?" "When will I know if this love is true?"
She's reassuring, just like she always is. "Nobody has it all figured out," she reminds me. "Just be patient and trust."
I want resolution. It's a New Year. A new beginning. Yet.
We're driving through the empty fields of northwest France, close to the shore. We pass cows and signs with names like Lorient, Vannes, Nantes, and Rennes. I've been here before.
"Do you remember this bar?" he asks. The city center is all lit up with Christmas lights. The trees sparkle as the sun sets and we share a cigarette outside. I do remember. It was summer the last time I was here. Festival season. I was wearing shorts and Birkenstocks. When I left France, I promised I'd return in January. I didn't know it would be two years later.

Pontivy, France 2013
He drops me off two weeks later at a meeting point for covoiturage and I take a familiar route, heading south, just like last time. We say the same goodbye, not knowing if or when we'll say hello again. I have an eerie feeling, like I've done this all before.

I arrive at the train station in Brive la Gaillard, waiting for a friend to pick me up. "Tell me everything!" she asks excitedly as we cruise around all of the bends in the road, going up and then down again. "Do you recognize it yet?" she asks.

One of the beautiful valleys of Cazillac, France 2014
Of course I do. I spent three weeks here before coming home. It was my last Workaway in France. It was here I decided to change my flight, returning back to the States earlier than expected. It was here I stayed before going to Paris one last time, it was here I decided to move to Nashville with my sister.
"What are you up to now? Where are you going next? How long will you stay?" she probes.
I laugh. "All good questions! I'm in the exact place I was the last time I visited," I confess. "I have no idea what I'm doing, but I think I know what I want." "Well that's good," she looks at me sideways. "The last time you were here you were very lost. You seem less lost now," she analyzes.
Resolution.
I'm anxious to know what comes next. I'm ready for a deeper understanding of the cycles we sometimes repeat. I want to see the way through to the other side. I want to know if this is the last time I'll feel what I feel now, if this is the final chapter of this phase of my life.
    "I couldn't do it, I couldn't leave everything I have and not have a home base," a stranger confides, looking at me like I'm completely out of my mind. "Where do you live? Do you live with your Mum and Dad? Do you live alone? Where are your things?" he asks.
"I don't really have any," I tell him. "There are maybe 2-3 boxes of books, and a duffel bag of summer clothes I left with my Dad. A friend has a few sweaters and dresses I told her to give away if I didn't come back for them. That's it." He shakes his head.
   I agree with him. I don't want to do this forever. I want a dog and a new tattoo with the word "rooted" written on my arm where I can see it every single day. I want to have a place with a washer and dryer so I can offer to do a load of laundry for the smelly backpackers that come my way. I want to cook scrambled eggs in the morning for breakfast, have my own coffee pot, and listen to records again. I want to sit on my own front porch and drink tea and wave at the neighbors.
I want to go to a yoga studio with a funny yoga instructor who makes me laugh just when I want to punch him or her for making me hold that goddamn pose so long. I want to run up fines at the local library because I've checked out more books than I can read and have forgotten to bring them back on time. I want to host a dinner party and recognize the bus driver I take on the same route to work every day.
Resolution.
Maybe this is the year. Maybe this is the year I give up trying to tidy up the loose ends and what ifs. Maybe this is the year I stop trying to be a traveler or a girl who stays and  accept that I am both, at different times.
Maybe this is the year I appreciate and accept that love is sometimes an exclamation mark and sometimes a question mark and sometimes a confusing comma you don't know where to place. Maybe this is the year I take it all in, one beautifully uncertain moment at a time.
Maybe this is the year that doesn't need resolution.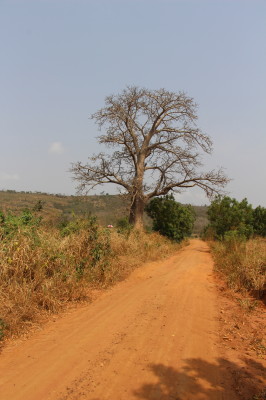 Teiman, Ghana 2014
Google+